Massage Services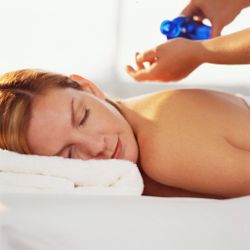 Therapeutic Massage
Therapeutic Massage is a personal health service using various massage techniques for the improvement of the client's health and well being. Here are a few of the many benefits of regular massage:
Stress and tension are reduced allowing you to cope better with day-to-day situations.
Improves blood and lymph circulation.
Improves immune system function.
Combats the negative effects of aging by enhancing body tissue elasticity and joint flexibility and promoting vibrant, healthy skin.
Deep relaxation is induced and insomnia can be relieved.
Can help relieve tension headaches, muscular neck and back pain, poor circulation, stress and anxiety and bring the body back to optimal health.
Raindrop Technique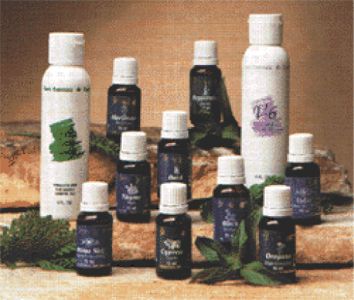 We now offer Raindrop Technique to enhance your massage experience. Raindrop Technique combines conventional massage techniques, a form of Oriental acupressure, and Vitaflex (Reflexology). This soothing technique can have a positive effect on both your body and your spirit. Please see our Raindrop Technique Page for more information.
La Stone Therapy
La Stone Therapy involves the use of heated and cooled basalt stones. Heated stones glide across the body, soothing the muscles and melting away tension and knots. Cooled stones are used to relieve inflammation. After the muscles are warmed and relaxed, Swedish massage and deep tissue work can be done. LaStone Massage has many benefits:

Heat has a sedative effect on the nervous system.
Increases circulation of blood and lymph.
The stones' weight, warmth and rhythmic flow of the massage leave the client feeling nurtured.
Deep, calming feeling, similar to meditation.
For athletics, the penetrating heat rapidly loosens tight muscles.
Cold is used in areas of inflammation, injury or chronic tension to break the pain-spasm-pain cycle.
Alternate use of cold and heat creates a profound circulatory response.
Eliminates toxins.
[top]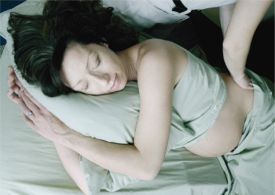 There are many misconceptions about massage during pregnancy. Pat is specially trained in appropriate massage techniques that can assist in reducing stress for the expectant mother, and can have a positive effect on the baby as well.
Prenatal massage can:
help to relieve many of the common discomforts of pregnancy through gentle massage.
help with posture during the months of increasing baby weight.
help to support your emotional state during pregnancy.
bring on a state of calm relaxation.
have a positive effect on the blood and lymph systems by increasing circulation.

For more information, click here to read two articles on Prenatal Massage from the Associated Bodywork and Massage Professionals magazine, Body Sense Magazine.



For both the young and mature athlete, Sports Massage can be an essential aspect of your fitness and sports program, helping you to achieve your goals with minimal injury and pain.



Speeds recovery from strenuous physical exertion.
Helps improve flexibility.
Helps prevent scar tissue from hardening.
Enhances physical performance.
Relieves tired and sore muscles.
Helps eliminate toxins.
Improves circulation.
Reflexology is the art and science of stimulating the body's own healing forces by locating and massaging certain points on the feet and hands. By applying pressure to a reflex point, the therapist can affect certain beneficial changes. For example, when reflex massage is given on the big toe, it is said to relieve headache and tension. Various parts of the feet and hands are linked with specific glands, organs and muscles.

Relieves tension
Improves the flow of blood
Helps normalize body function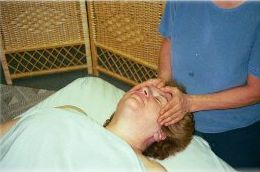 Reiki Therapy is an energy technique based on ancient Tibetan healing methods. Reiki (pronounced ray-key) is a Japanese word meaning "universal life energy". The Reiki treatment method works on all levels of health: physical, emotional and spiritual.
Relaxing
Uplifting
Non-invasive
[top]
Seated Chair Massage (Back, Neck, Shoulders & Arms)
On-site chair massage is a stress reducing, rejuvenating massage done with the clothes on. The therapist massages the back, neck, shoulders and arms.

Seated massage is an abbreviated massage usually lasting fifteen minutes and is well suited to a short relaxing break in a busy hectic day. It has been shown that corporate massage increases productivity, raises employee morale and reduces sick leave. Today, many corporations are finding corporate massage to be good business.

Increases productivity
Raises employee morale
Reduces sick leave
Releases muscular tension

[top]